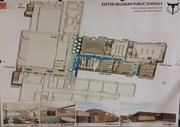 Building Project
The new east academic wing and the west entries building project at the Exeter site was completed the summer of 2016 and was used for the first time the 2016-17 school year.
Our next project is the remodel of the locker rooms at the Exeter site. Deconstruction has started and the goal is for the project to be completed by August 1st. Stay tuned as we update the progress!
Thank you to everyone for their support of this project as we prepare our facility for the future and future Timberwolves!
Order easy school supplies with ClassBundl
June 26, 2015
Our School Partnered With ClassBundl to Bring You Ridiculously Easy School Supplies
No lines. No shipping fees. No hassle.
Save time school supply shopping and earn money for our school with ClassBundl. BONUS: Our school receives 5% cash back! Skip the checkout lines and make school year prep easier with ClassBundl. Order Today at ClassBundl.com!
1. Go to ClassBundl.com and search for our school.
2. Order the classroom specific bundl.
3. Supplies arTexte shipped directly to your door with no fees.
Purchase Your School Supplies Online
July 25, 2014

Exeter-Milligan is working with ClassBundl to help you purchase your children's required classroom supplies in five minutes or less—and 5% goes back to help EM teachers buy their supplies. ClassBundl enables you to save time by offering conveniently bundled classroom supplies for each of our classrooms!
Using ClassBundl is easy: go to www.classbundl.com, search for Exeter-Milligan School find your childrens' classrooms, review each bundle and purchase with a credit card. ClassBundl offers name brand products, free shipping, and competitive pricing.
Ridiculously Easy School Supplies.
Attached you will find a flyer with more information
Beginning School Information
Below is some beginning school information.
ALL FORMS ARE AVAILABLE AT THE FOLLOWING LINK AND MAY BE SUBMITTED ELECTRONICALLY: CLICK HERE
Check This Out!
February 19, 2013
Check out the latest in Timberwolf news.